Back in 2017, Initial Coin Offerings, also known as ICOs, were the hype. You could literally buy into ANY ICO and get a positive return on investment. Almost every ICO was oversubscribed, and people were fighting to get allocations to maximize their potential returns.
This carried on to early 2018, and that was when the bear market came. The cryptocurrency market cap peaked at 828 Billion in January 2018, according to tracking website CoinMarketCap. As of the time of writing, the market cap of all cryptocurrencies is at 212 Billion. This represents a 74% drop from its' all time high.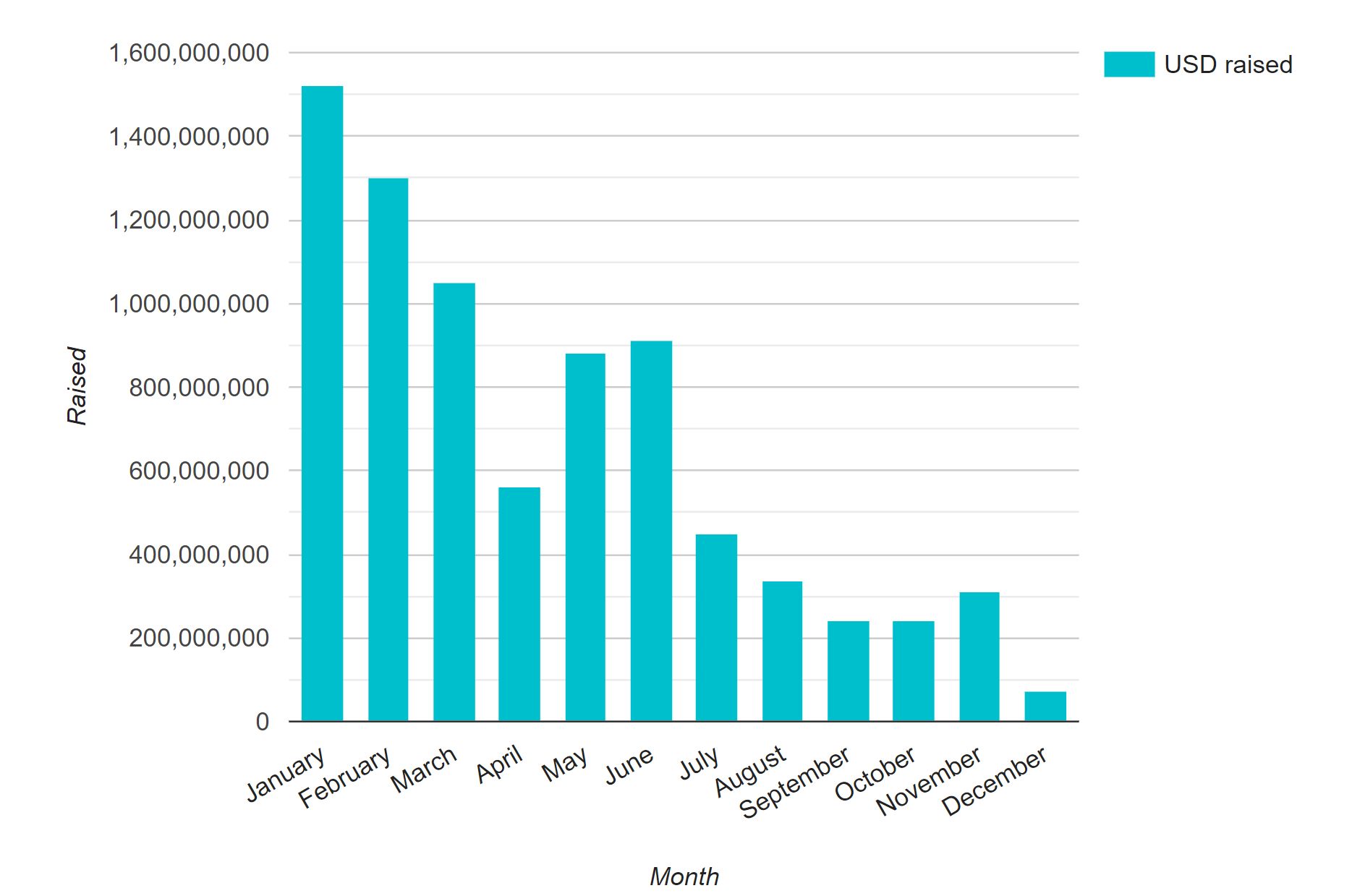 As seen in the chart above, the amount raised in ICOs has been steadily decreasing every month in 2018. This can be attributed to a few factors:
1. With a massive drop in price of all cryptocurrencies, including Bitcoin & Ethereum, investors do not have enough funds to invest in ICOs.
2. Among the many ICOs launching, there are some scams within that are meant to cheat investors of their money. Some investors have become wary and decided not to invest completely.
3. Most ICOs in 2018 did not yield positive returns. Most recorded a loss once their tokens were unlocked and began trading at less than what they bought for during the ICO. As such, they would naturally not buy into any ICO.
The birth of IEOs.
For simplicity's sake, we will focus on the Binance exchange in this article. In January of 2019, Binance made a surprising announcement. They would be re-opening their Binance Launchpad, which helps projects raise funds. Their first Initial Exchange Offering (IEO) would be on 3rd February 2019. It is none other than a TRC-10 cryptographic token called BitTorrent (BTT).
Investors had mixed feelings about the IEO. Some thought that the token would be listed on the Binance Exchange after the ICO, increasing the price tremendously as per any token listed on a major exchange, due to the promise of further liquidity. Some thought that Binance would wash their hands off with BitTorrent after the IEO, and would not be affiliated with them from then on.
In the end, the BitTorrent token sales was severely oversubscribed, with it being sold in minutes. As soon as it got listed, the token went up 330% from its IEO price. People who were following BitTorrent from the start realized that ICOs could be coming back alive in the form of IEOs. After BitTorrent's success, Binance Launchpad helped raise funds for Fetch AI, Celer Network & Matic Network (in order).
However, you'll notice there is a trend here. The ATH ROI has been dropping since BitTorrent launched, according to official statistics by IcoDrops. Binance's first IEO, BitTorrent had an ATH ROI of 10.4x. The 2nd project, Fetch AI, had an ATH ROI of 5.4x. The amount has dropped for the 3rd project and even more for the 4th project, only having an ATH ROI of 2.4x. Most of the tokens are trading at around 1.3 -1.4x the IEO price as of the writing of this article.
How long can this continue for?
Binance's IEOs have been successful so far, with none of the IEOs going underwater yet. This cannot be said for some other exchange's IEOs, such as Bittrex. For those of you who do not know, Bittrex's first successful IEO, VeriBlock went under IEO price on the first day of listing. Their next IEO, Ocean Protocol, did not even reach the hard cap, and is currently trading at close to 0.1x the IEO price.
It's hard to say how long this IEO trend will continue for. My opinion in this case is that once an IEO on Binance goes below the IEO price on the day of listing, the IEO trend will break completely. People will then lose trust in the exchange's IEO, as seen in Bittrex. Once the trust is lost, they will no longer buy into the exchange's IEO, which means that supply outnumber demand, and IEOs will no longer be profitable anymore.
My take on this? Ride the IEO hype while it lasts. It may only be a matter of months before this trend breaks. 
-----------------------------------------------------------------------------------------------------------
Sources:
https://www.coinspeaker.com/binance-launchpad-gains-380/
https://icodrops.com/ico-stats/